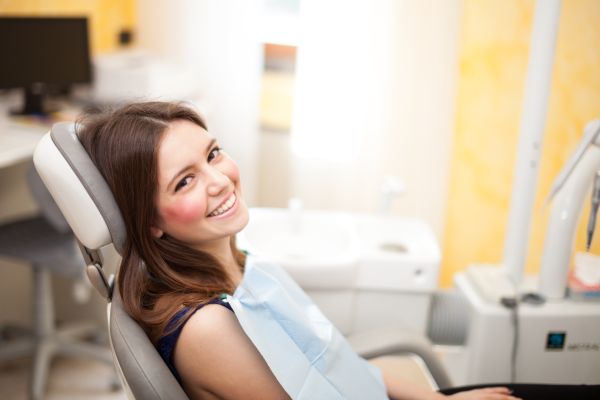 Cosmetic dentistry is a great way to perfect imperfections with your smile, such as crooked teeth, stained teeth and gaps in teeth.
Regardless of the need, there is almost always a cosmetic dental procedure that can solve your imperfection.
Cosmetic Dentistry by Age
While many may believe there is an ideal age for cosmetic dentistry, cosmetic dentistry is often needed in individuals of all ages, ranging from adolescent to seniors.
Depending on your age, however, the form of cosmetic dentistry often differs. The following is all of the information needed to have a full understanding of what cosmetic dentistry is recommended based upon your age,
Pediatric cosmetic dentistry
Children with baby teeth may not need serious cosmetic dentistry procedures, but there are several common treatment options for adolescent – in particular teenagers – who have an imperfect smile.
First and foremost, pediatric cosmetic dentistry is often administered in children with cavities. Most commonly, a composite resin – which is a tooth colored filling – is used to help restore the health of a child's teeth as well as the appearance.
To best prevent tooth decay from occurring in the first place, it can be beneficial to have children receive dental sealants, which are thin coatings placed on the surface of teeth. Of course, the teenage years are also the most common age for braces.
Adult cosmetic dentistry
While pediatric cosmetic dentistry is more designed around preventing any cosmetic issues before they occur, adult cosmetic dentistry is used to restore a damaged cosmetic appearance.
The three most common types of adult cosmetic dentistry include:
Teeth whitening
Dental bonding
Dental veneers
Gum contouring
Dental bonding is most commonly used to fill cracked or chipped teeth, restore the thickness and smoothness of teeth and lengthen teeth to give off a more symmetrical smile. Veneers – which are thin, custom-made shells that cover teeth – are great for restoring the color of stained teeth to look more natural. For adults who feel their teeth are either far too long or too short may benefit from gum contouring, which is altering the gum line to a more desired level.
In essence, adult cosmetic dentistry typically involves strengthening the appearance of already existing teeth that are still strong.
Cosmetic dentistry for seniors
While seniors can most certainly benefit from the typical adult cosmetic dentistry procedures in most cases, there is a greater chance of tooth loss as we age. Subsequently, seniors often require more invasive cosmetic dentistry procedures, such as dental implants, bridges or dentures.
Seniors who still have all of their teeth and have good oral health, teeth whitening, bonding and veneers are enough to maintain a great smile.
However, older adults and seniors who have experienced tooth loss – which is very common – may need to consider teeth replacement options for their cosmetic dentistry needs. While implants or bridges may be a viable option for one or a few missing teeth, complete or partial dentures may be best for a complete cosmetic dentistry restoration.
Are you considering cosmetic dentistry in the Hemet area? Get more cosmetic dentistry information at https://hemetdentalcenter.com.
---
Related Posts
January 24, 2019
For anyone who has been ashamed of smiling due to different dental issues with their teeth, a cosmetic dentist could be the best visit they decide to make. From discolored and stained teeth to gaps …
March 2, 2018
What is cosmetic dentistryCosmetic dentistry is a term used to define the procedures and changes made to the patient's dental structure, mostly for aesthetic reasons. Cosmetic dentistry can be performed to obtain a complete smile …
July 1, 2016
If you want to know if cosmetic dentistry can help you, call and schedule a consultation with our Hemet office. We focus on improving the appearance of teeth while helping our patients stay in excellent …
---