The Tools We Use to Complete a Smile Makeover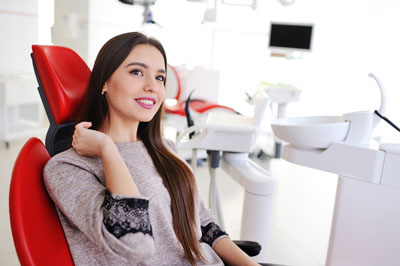 If you do not like your smile, schedule a smile makeover. We offer a wide variety of cosmetic dentistry solutions that can be used to transform the appearance of your teeth. First, we recommend that you visit us for a teeth cleaning and dental examination. This is an essential first step because it ensures that you do not have any cavities or gum disease.
If you do, we must treat it first so that your smile is both healthy and beautiful. Additionally, clean teeth will naturally look better than those with plaque buildup.
Next, we can discuss what you do not like about your smile and the many options that we have for improving it.
Smile makeover options to improve your smile
Teeth whitening
We offer a professional teeth whitening solution that can penetrate the enamel to remove the deep stains and yellowing that are under the surface. The results are dramatic and patients can expect the teeth to appear eight shades, or more, whiter. This is a significant improvement over anything that patients can buy at the store since the store-bought whitening kits typically only remove the surface stains.
Our solution works due to the process of oxidization where the molecules inside of the teeth change to reflect less light and appear colorless or white as a result. This is the fastest way to improve one's teeth. We recommend that a patient completes this procedure prior to seeking any other treatment.
Dental veneers
We use veneers to complete a smile makeover because they are a thin shell that we place on top of the natural teeth to change the appearance without the need for oral surgery. Veneers can close gaps between the teeth, change the shape and size of teeth and cover dark stains.
Dental crowns
Crowns can accomplish the same thing as veneers accept that they are a cap that surrounds the teeth and can be used to protect teeth as well. We will often use a crown on teeth that have suffered from enamel erosion or have significant cracks or chips.
Dental bridges
If a patient is missing any teeth, we can use a dental bridge to replace them in a non-surgical manner. A bridge works well when one has suffered from partial tooth loss but still have several natural teeth in place. The procedure works by placing a crown on the two teeth that are surrounding the missing ones. These teeth serve as an anchor for the dental bridge and the new replacement teeth.
Dental implants
Another option for replacing missing teeth is dental implants. This is the most permanent way to replace missing teeth because we insert a titanium post under the gums and secure it to the jawbone. The bone and metal will fuse together through the process of osseointegration, creating a new durable root system for your replacement tooth to be secured to.
Using one or all of these solutions will allow us to give you a stunning smile makeover.
Recent Posts
If you are dissatisfied with the look of your smile, it is time for a smile makeover. Perhaps you have a chipped tooth, receding gums or gaps between your teeth. Maybe you are self-conscious about stains on your front teeth so you hesitate to smile or eat in public settings. A smile makeover can ease…
My smile is unattractive, and I need a dentist near me to improve it. Can you help?Yes, we can. As a cosmetic dentist office in Hemet, we can transform your smile into something truly stunning. Regardless of whether you have missing teeth causing your angst or you have never enjoyed your smile, we can address…
---