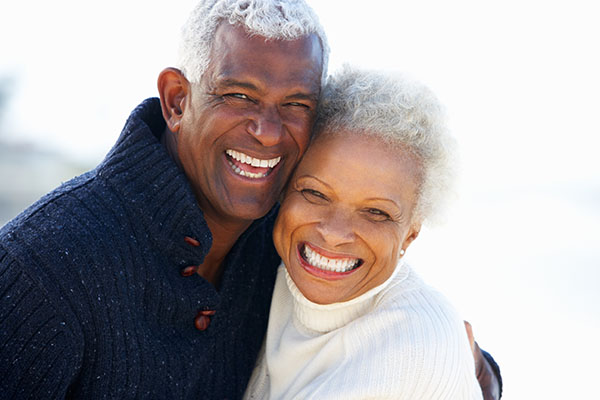 Wanting to replace your missing teeth? Missing just one of your teeth eventually leads to oral problems. When you are missing multiple teeth, then taking action to replace the teeth is necessary. Some of the more common problems associated with missing teeth include having difficulty chewing food, having difficulty talking properly, shifting teeth and jawbone loss. Ready to learn more about dental implants and dentures so you can make a choice that is right for you?
Choosing a tooth replacement option
Finding a replacement option to address an issue with missing teeth is necessary for good oral health and feeling confident when smiling. According to Harvard Health, losing teeth not only affects a smile, but it can also alter one's bite and weaken the jawbone. In order to avoid these problems, one should simply choose a tooth replacement option that works for them. The following information explains what is involved in choosing dental implants and dentures.
Choosing dental implants
A dental implant is a false tooth that not only looks natural, it also acts just like a natural tooth does. In order for a dental professional to place an implant in a patient's mouth, they must first surgically insert a tiny post into the jawbone. The jawbone is now once again being stimulated, improving overall jawbone health. Once the post has healed, the abutment is attached to the post and then the false tooth is attached to the abutment. The patient now has a new, permanent tooth that needs to be cared for just like natural teeth.
Dentists recommend dental implants for any dental patient who is missing one or more of teeth and looking for a long-term tooth replacement option. It is necessary for patients choosing this option to have enough jawbone to support the implant. If not, jawbone grafting surgery is often an option. The entire process can take anywhere between four and eight months to complete.
Choosing dentures
Dental patients who are missing multiple teeth can choose between partial dentures and full dentures. Patients can also choose between a resin composite material or porcelain, which means they have an option in how their false teeth will look. It takes up to a week for new denture wearers to become accustomed to wearing dentures, since it takes time to get used to talking and eating with them.
Dentures are recommended for dental patients who are missing multiple teeth. A dental professional will take an impression of the patient's mouth in order to create dentures that meet their specific needs. The entire process for getting new dentures takes anywhere between three and six weeks to complete.
Have you made a choice?
Implants or dentures? Which one will best fix your missing teeth problem? After reading the above information, you now understand a little bit more about the difference between implants and dentures. Each choice offers its own benefits, and now it is up to you to determine which tooth replacement option is a match for you. If you are ready for a consultation or want to find out more, book your appointment today!
Request an appointment here: https://hemetdentalcenter.com or call Hemet Dental Center: Brian Stiewel DDS, INC. at (951) 707-4366 for an appointment in our Hemet office.
Check out what others are saying about our services on Yelp: Read our Yelp reviews.
---
Related Posts
January 28, 2020
Dental veneers are ultra-thin shells that are cemented over the surfaces of teeth to correct dental issues. You can benefit from veneers if you do not like how your teeth look or your overall smile. …