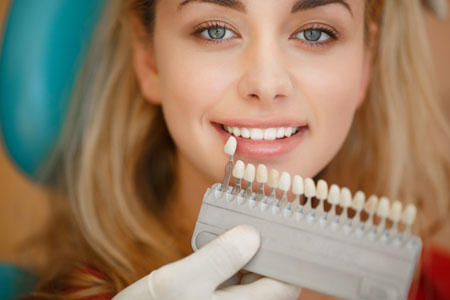 Dental laminates, also known as dental or porcelain veneers, are a great option for people looking into their options when it comes to improving their smile. Smiling with confidence is something everyone should be able to experience during their lifetime. This is why it is so very important to see a dentist regularly. A dentist can offer both professional care and the most effective dental solutions to everyday oral health issues.
No matter what the reason is for not having a perfect smile, veneers are one of the best cosmetic solutions available when it comes to modern dentistry. Once we ensure that there are no other oral health issues, we can begin the dental laminate process and help you acquire the perfect smile you desire.
How long do laminates last?
On average, laminates will last about 15 years. Over time, just like real teeth, they will begin to diminish, creating the need to eventually replace them. However, we can provide regular maintenance and monitor for when it is time to replace the veneers. Some of the more common problems people have over the years include small chips or breaks, making it necessary for patients to be extra careful when eating certain foods.
Having veneers requires regular visits to the dental office, with most dentists recommending that patients come in about every six months or so. These regular visits allow the dentist to perform a thorough exam so they can catch any potential issues before they become a real problem. Getting a professional cleaning every six months is also recommended.
Tips for making laminates last longer
Whenever a dental patient decides to get laminates, they are going to want to do everything they can to make them last as long as possible. There is a big difference between getting new veneers every 10 years and getting new veneers every 20 years.
It is also important to understand that veneers are very strong and therefore are very difficult to break, so when they are properly taken care of the patient will get the full benefit of the laminates.
Good oral health
Brushing and flossing twice daily is essential to the longevity of dental laminates. Using a gentle toothpaste with fluoride will both clean and protect them.
Teeth grinding causes damage
There is a lot of pressure put on the laminates when someone grinds their teeth, and for that reason should be avoided at all costs. Wearing a bite guard at night is usually the best solution to this problem.
Avoid repetitive or blunt forces
Even though laminates are very strong, they may not hold up to things like constant nail biting, pencil chewing, ice eating, carrot biting, and contact sports.
Bottom Line
Dental laminates are a great option if you are wanting to improve your smile. The initial procedure usually includes two separate dentist visits, and the outcome can last up to 20 years if you simply follow all of the guidelines your dentist gives you. Ready to take control of your smile? Contact us now to make an appointment for more information.
---
Related Posts
September 6, 2019
Porcelain veneers are thin shells of porcelain materials created to fix imperfections on the front teeth and improve the appearance of the teeth. They can be used to change the size, shape, length and color …
July 4, 2019
If you are considering dental veneers, it is important for you to learn everything you can about them. Veneers are a popular cosmetic option when you need a smile makeover. A dentist may recommend them …
December 2, 2018
How long veneers last is an important question for anyone considering this cosmetic dental appliance.They are a common fix for discolored, chipped, broken and misshapen teeth as well as for gaps between the teeth. Less …
---