Improve Your Smile and Health at Your Dentist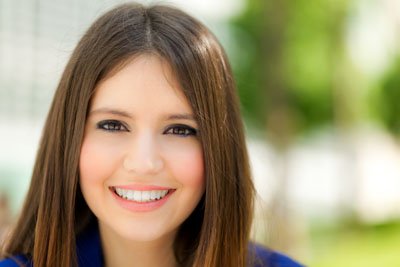 If you are dissatisfied with the look of your smile, it is time for a smile makeover. Perhaps you have a chipped tooth, receding gums or gaps between your teeth. Maybe you are self-conscious about stains on your front teeth so you hesitate to smile or eat in public settings. A smile makeover can ease such concerns, improve your appearance and simultaneously improve your oral health to boot.
Learn More About a Smile Makeover and the Benefits
The Magic of a Smile Makeover
A smile makeover involves a series of different elements meant to create a more pleasing aesthetic without any sort of invasive surgery. Anyone who struggles with crooked, worn, discolored, chipped, misshaped or missing teeth will enjoy a significant aesthetic improvement with a smile makeover. This process can even rectify gaps between teeth to turn an uninspiring smile into one that lights up a room.
Obtain the Youthful Appearance You Have Long Coveted
Everyone desires to look young. The question is how to achieve this goal. A smile makeover just might prove to be the solution. This is a non-invasive treatment that provides the face with a youthful and attractive aesthetic. The appearance of the face is improved through an alteration of the shape, alignment and appearance of teeth and gums. These alterations might seem subtle yet they really do impact the appearance of the entire face including the cheeks and lips. This is the quickest way to overcome issues like tooth loss, stained teeth, teeth wear and tear, sinking lips and a hollowing of the cheeks.
The Elements of a Smile Makeover
A smile makeover starts with an assessment of the patient's mouth and face. The face shape is important as the shape of the teeth should be in visual harmony with the features and general shape of the face. Matching teeth color is also essential to building a smile that appears natural in all aspects. As an example, it does not make sense to whiten a senior citizen's teeth to the point that they are a bright white that appears fake. This is due to the fact that uber-white teeth are associated with young people. Even the patient's skin tone and hair color might play a role in determining the shade of porcelain veneers that will ultimately straighten crooked teeth by forcing the proper alignment the filling of empty spaces.
All the "Small Stuff" Will be Addressed in Your Smile Makeover
The manner in which an improvement will alter your look as well as your oral health will be considered in-depth prior to its implementation. Even something as seemingly subtle as lengthening the front middle teeth has the potential to result in a more youthful appearance. A tooth with even slight staining or discoloration can be easily covered with a porcelain veneer that does wonders for the patient's smile. Aside from veneers, a smile makeover can help improve a patient's aesthetic with anything from a dental implant to the straightening of teeth, teeth whitening solutions, dental laser gum treatments and beyond. These procedure are used in combination with one another to generate a beautiful face that is healthy and vibrant.
Recent Posts
My smile is unattractive, and I need a dentist near me to improve it. Can you help?Yes, we can. As a cosmetic dentist office in Hemet, we can transform your smile into something truly stunning. Regardless of whether you have missing teeth causing your angst or you have never enjoyed your smile, we can address…
If you do not like your smile, schedule a smile makeover. We offer a wide variety of cosmetic dentistry solutions that can be used to transform the appearance of your teeth. First, we recommend that you visit us for a teeth cleaning and dental examination. This is an essential first step because it ensures that…
---