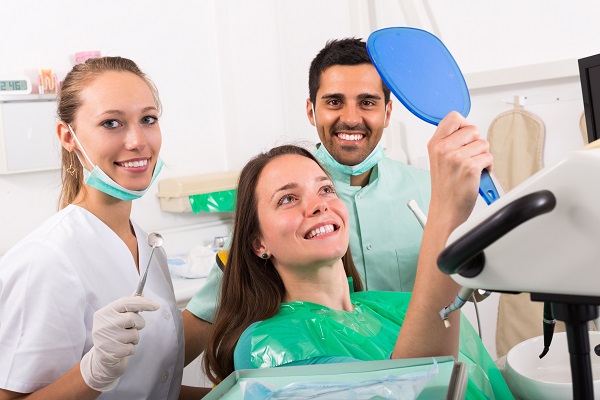 Oral surgery fixes dental health issues that cannot be corrected by more conservative treatment options. Take corrective jaw (orthognathic) surgery, a subcategory of oral surgeries that corrects a wide variety of oral health issues. Jaw surgery can treat problems that are far too advanced for traditional orthodontic treatment. Orthognathic surgery is often the best way to treat jaw injuries or severe congenital defects.
To fully grasp how oral surgery can improve jaw problems, we need to understand the scope of this treatment option.
Oral surgery and what it can do for a patient
Oral surgery is a term that describes procedures as simple as tooth extractions. It also describes more complicated procedures like bone grafts and dental implant surgery. Then comes the most complex of oral surgeries — oral and maxillofacial surgery. This branch of oral surgery covers procedures as complex as corrective cleft palate repair and corrective jaw surgery.
Here are the benefits of this most complex branch of oral surgery.
Corrective jaw surgery can correct chronic jaw pain
Temporomandibular joint (TMJ) disorder is a condition that affects a surprisingly high percentage of the population. It presents as jaw pain that often extends to the rest of the face. As a result, TMJ can cause chronic headaches along with jaw pain.
The root cause of TMJ is a misalignment of the two joints that connect the upper and lower jaw. This joint derangement causes a patient to put stress and strain on their jaws, causing pain. Corrective jaw surgery can align the upper and lower jaw, restoring full motion to the joints. The welcome end result of the surgery is pain relief.
Reconstructive surgery after injury
Like any other bone, the jaw can break or fracture after trauma. Reconstructive jaw surgery can repair the bone structure of the jaws and the surrounding tissue.
The correction of congenital deformities
Orthognathic surgery can also correct birth defects that affect the quality of a patient's life. A person who lives with a deformity like a malformed or underdeveloped jaw will experience daily difficulties like:
Trouble breathing and, by extension, sleeping
Difficulty in cleaning the teeth
Trouble speaking and eating
Undue stress and strain on the teeth and jaws
Jaw surgery can align the patient's jaws and teeth, improving their quality of life in many ways.
The correction of severe malocclusion
A malocclusion or bad bite describes the misalignment of a person's teeth. It can occur as an overbite, an underbite, gapped teeth or crowding. A patient with moderate malocclusion may only need orthodontic treatments like braces or a jaw expander. Patients with severe malocclusion may need corrective jaw surgery to reshape or resize the jaw.
More often than not, jaw surgery for severe malocclusion is one of several stages of a patient's treatment plan. After the person heals from surgery, they usually require orthodontic treatment to further sculpt their jaws.
Make your jaw problems a thing of the past
Do not let a jaw problem hold you back. Call our office today to schedule an appointment and find out how oral surgery can improve your dental health.
Request an appointment here: https://hemetdentalcenter.com or call Hemet Dental Center: Brian Stiewel DDS, INC. at (951) 707-4366 for an appointment in our Hemet office.
Check out what others are saying about our services on Yelp: Read our Yelp reviews.
---
Related Posts
March 18, 2020
You should visit the general dentist often to maintain good oral health. Keeping regular appointments is critical. You should also seek your dentist's help if you are experiencing a toothache or other concerning issues. The …