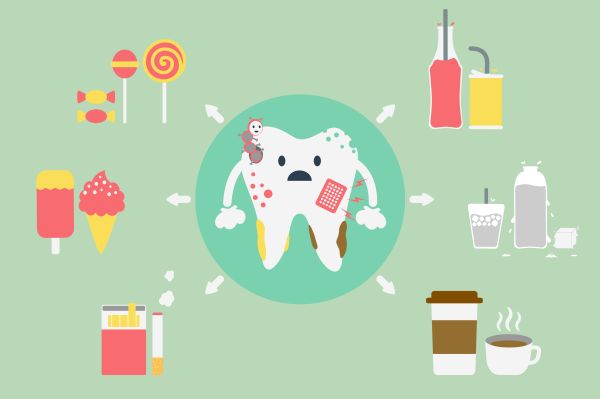 Do you want to get rid of your teeth stains but are not quite sure which of the many foods you eat are causing your teeth to be stained? There are many different types of foods and drinks that can stain your teeth. Even if you get your teeth professionally whitened on a regular basis, if you eat teeth-staining foods, your teeth will start to stain again.
How does food stain teeth?
Why do some foods stain the teeth and others do not? Foods and drinks that cause teeth to stain include the following chemicals: chromogens, acid and tannins. Chromogens and tannins are two compounds that work together to cause teeth stains, as they are both aggressive when it comes to sticking to the teeth's enamel. This is one of the reasons it is so important to brush one's teeth after eating. Foods high in acids cause stains by sticking to the enamel, which leaves little patches of stains if not removed in a timely manner.
Common foods that are known to cause teeth stains
The following is a list of 10 common types of foods that are known to cause stains to teeth.
berries
coffee
red wine
tea
tomato sauce
curry
beets
soda
lemons
balsamic vinegar
Have any questions that need answered?
If you have any questions about teeth stains and how to get them removed, simply give us a call when you have a few moments to spare. Our caring team of dental professionals is always willing to answer questions. We know that there is a lot of information online, and we want to make sure that you receive the correct facts. There is nothing better than having a smile you can be proud of, and when you have stains on your teeth, it can be difficult for you to show off your smile. We are here for you if you need us!
Call (951) 707-4366 today to reach Hemet Dental Center: Brian Stiewel DDS, INC..
---
Related Posts
June 5, 2019
Teeth whitening products are very popular nowadays. Everyone wants to have a set of shiny, white teeth, and whitening products can be purchased pretty much anywhere. With so many types of teeth whiteners available, selecting …
December 3, 2018
While activated charcoal is thought to whiten teeth and before and after pictures on social media would seem to confirm this, the process simply masks the problem. It does not reach down into the tooth …
November 13, 2015
As the holidays are approaching, call our office to schedule a teeth whitening service. This is one of the easiest ways to improve the appearance of your smile. It can turn your dull teeth into …
---