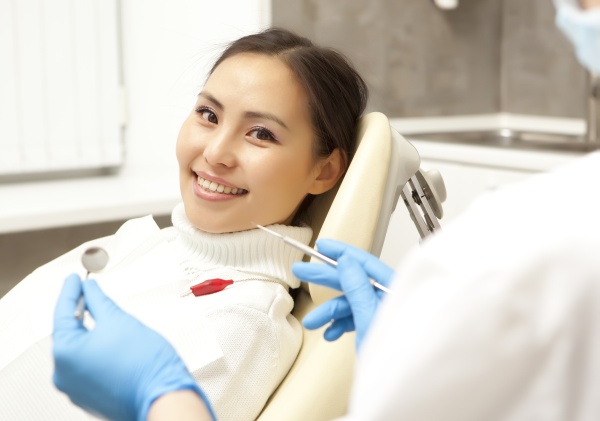 Thinking about choosing one of the cosmetic dentistry options for brightening your teeth? Good idea. While many people choose to whiten and brighten their teeth by buying over the counter teeth whitening products, there are concerns about the quality of these products. Today's cosmetic dentists recommend that all patients who are interested in whitening their teeth make an appointment for professional teeth whitening services.
Why white, bright teeth?
Wondering why cosmetic dentistry services are the preferred option for dental patients wanting to whiten and brighten their teeth? When compared to over the counter teeth whitening options, professional whitening services are personalized for each patient. Cosmetic dentists also have access to high-grade whitening ingredients, which are safer for the patient and thus going to work much better than store-bought options. The effects of professional whitening options also last much longer than store-bought whitening options.
According to the American Academy of Cosmetic Dentistry, when people were asked what they would most like to improve about their smile, the most common response was whiter teeth.
Cosmetic dentistry to brighten teeth
The following is a list of popular cosmetic dentistry treatments a cosmetic dentist can use to whiten and brighten a patient's teeth.
Professional teeth whitening
In-office bleaching, also known as chairside bleaching, allows anyone to have whiter, brighter teeth in just a matter of an hour or so. This extremely convenient teeth whitening option is one of the more popular options people are choosing nowadays, as this option not only works quickly, it also lasts for up to a year with proper oral care. The procedure is overseen by a cosmetic dentist, making it a safe whitening procedure.
Teeth whitening trays
Teeth whitening trays and gels are an option for those who would rather whiten their teeth while at home. The whitening gel is prescribed by a cosmetic dentist, who will let patients know how long they must keep the trays in their mouth for them to expect ideal results. While this procedure takes longer to white one's teeth, it is still a popular professional teeth whitening choice.
Dental veneers
While dental veneers are often used to cover up teeth imperfections on the front teeth, veneers can also be used to brighten teeth. An experienced cosmetic dentist will need to determine how many veneers someone will need to give them a white, bright smile, which are specifically made for each patient so that the veneers match the rest of their teeth.
Ready to brighten your teeth?
Many dental patients are choosing cosmetic dentistry options to brighten teeth nowadays. While there may be many over the counter teeth whitening choices, these choices are generic, not as high a quality as professional teeth whitening services and some results do not last very long at all. It is a good idea for you to have your teeth professionally brightened by a cosmetic dentist, which is both safe and fast.
Are you considering cosmetic dentistry in the Hemet area? Get more information at https://hemetdentalcenter.com.
Check out what others are saying about our services on Yelp: Read our Yelp reviews.
---
Related Posts
December 19, 2019
Dental restoration is an important component of your oral health care. While you should visit your dentist every six months for wellness checkups and preventive work, restorative care is also available. If you have a …