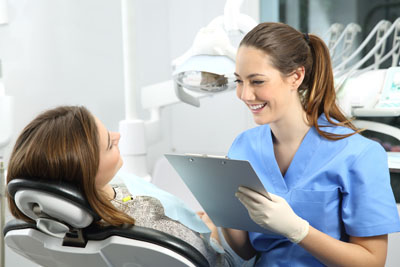 What is cosmetic dentistry
Cosmetic dentistry is a term used to define the procedures and changes made to the patient's dental structure, mostly for aesthetic reasons. Cosmetic dentistry can be performed to obtain a complete smile makeover. This includes the transformation of the teeth structure using various dental procedures.
A dentist can alter the appearance of your smile, align crooked teeth, reduce the gaps between teeth, replace teeth and even restructure the jaw bone using cosmetic dentistry. However, cosmetic dentistry is not just limited to aesthetics reasons only.
Teeth straightening
Teeth straightening can very well be considered a part of cosmetic dentistry. Bonding, crowning, bleaching, teeth straightening and veneers are all part of the complete smile makeover.
It is an orthodontic treatment that fixes the gaps, shape, structure, and bites in teeth. This is very effective in the treatment of misaligned teeth and teeth that are slightly extended causing an overbite. This can also be used to treat an underbite and other prominent structural problems.
Cosmetic dentistry uses porcelain veneers and crowns to reduce the gaps in teeth, their misalignments, and overbites or underbites. Besides the aesthetically pleasing result, this also helps make speaking and chewing more comfortable.
Teeth straightening can be an extensive treatment that requires a number of visits to the orthodontist. The extent of the treatment depends on the needs of the patient. The shape and color of the teeth are improved using porcelain veneers. These veneers are added to the top of the lower jaw depending on the changes that need to be made.
Adding crowns one dental bridge is another procedure which is a part of teeth straightening. This includes placing two anchoring crowns on existing natural teeth to support artificial installations.
While these two procedures are the most used in teeth straightening, it may also include the following from the cosmetic dentistry point of view.
Invisalign
The dentist takes an impression of your dental structure; using the 3D tech from the Invisalign treatment. This helps create clear aligners that are removable. This treatment entails a few visits to the dentists to ensure that the aligners are actually effective.
The Package
Most dentists will offer you a package pertaining to a certain time period. For example, a "six-month smile" package will include a series of treatments and dental procedures that include teeth straightening and you will emerge with a complete smile makeover.
The Inman Aligner
This is usually done after you have completed a braces treatment from your dentist. This is an aligner that gently applies pressure on the teeth to retain their "after teeth straightening" position rather than moving back to their original place. This can be identified as a customized brace that can be applied to the upper and lower dental structure without causing any discomfort. The dentist will prescribe the time for you need to wear these.
That's not all…
For more information or to schedule an appointment with Hemet Dental Center: Brian Stiewel DDS, INC.,request an appointment in our Hemet dental office here: https://hemetdentalcenter.com. Or call us at (951) 707-4366.
---
Related Posts
January 24, 2019
For anyone who has been ashamed of smiling due to different dental issues with their teeth, a cosmetic dentist could be the best visit they decide to make. From discolored and stained teeth to gaps …
October 5, 2018
Cosmetic dentistry is a great way to perfect imperfections with your smile, such as crooked teeth, stained teeth and gaps in teeth.Regardless of the need, there is almost always a cosmetic dental procedure that can …
July 1, 2016
If you want to know if cosmetic dentistry can help you, call and schedule a consultation with our Hemet office. We focus on improving the appearance of teeth while helping our patients stay in excellent …
---