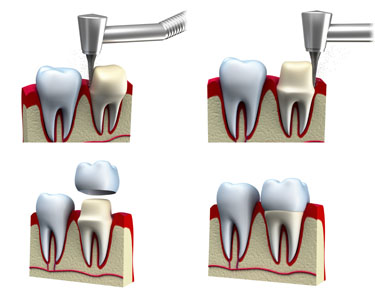 Many people need a dental crown but do not want an all-metal crown on one of their teeth. The reality is that while metal crowns were the norm in the past, they are now considered to be outdated. The main concern dental patients have is that when a crown consists completely of metal, it can contain lead. Unfortunately, lead has the potential to lead to one having health issues.
Since dental technology continues to advance each day, dental crowns are no exception. The fact that there are now options when it comes to non-metal dental crowns, means that patients have a choice. With these new treatment options, patients do not need to rely on a treatment that they are unsure about.
What exactly is a dental crown?
A dental crown acts like a cap that goes over a damaged tooth in order to help restore the cap to its original condition. Anytime a tooth sustains damage, which includes cracks, fractures, breaks, and splits, it is highly likely that a dentist will want to cover the tooth with a crown.
When a dentist installs a crown, most consider it to be a permanent fixture that requires the same level of care as the surrounding teeth.
Non-metal dental crowns
The most popular non-metal dental crown choices are porcelain crowns and ceramic crowns. Both of these types of dental grounds are often preferred because they offer a much more natural look, which tends to be important to every dental patient.
Since porcelain and ceramic crowns are also very strong and very durable, these new and improved dental crowns are often the better choice for dental patients.
Three reasons for choosing non-metal dental crowns
The following are three reasons why it is a good idea to choose non-metal dental crowns.
1. For your health
Metals used in the making of all metal dental crowns can include harmful materials, like lead and mercury, which are unhealthy for the body. Because these materials can also cause allergic reactions, as well as general fatigue issues, all-metal crowns should be avoided when possible.
2. For a better smile
When an all-metal crown is used, it is highly likely it will show whenever someone smiles. Non-metal crowns often go unnoticed as they are able to blend in well with the rest of the teeth.
3. For a better fit
All metal crowns can be 'felt', and for this reason, a metal crowned tooth will not fit in perfectly with all of the other teeth.
Need a dental crown upgrade?
If you are someone who already has metal crowns, we invite you to contact us today to discuss upgrading to a non-metal crown. If more than 20 years have passed since you got your metal crowns, it is definitely in your best interest to choose one of the non-metal dental crowns currently available. If you are someone who has never had a crown before and need more information, we invite you to contact us today with your crown-related question.
---
Related Posts
April 6, 2019
Dental crowns are one of the most versatile dental prosthetics used by dentists. They can be used to address a wide range of issues and including cosmetic purposes.What are dental crowns?A dental crown is a …
September 20, 2017
In our cosmetic dentist office, we use dental crowns to solve a variety of oral health issues. Whether you are looking to correct a damaged tooth or to improve the appearance of your teeth, dental …
August 21, 2017
Crowns and bridges are vital to the dental restoration process. When you are in need of improvements to your dental structure, these two components can provide stability, aesthetic appeal, and durability. Both crowns and bridges …
---